About Brass Ring: Lynn's Bio

Contact Lynn for a customized program that works for both your schedule and your budget.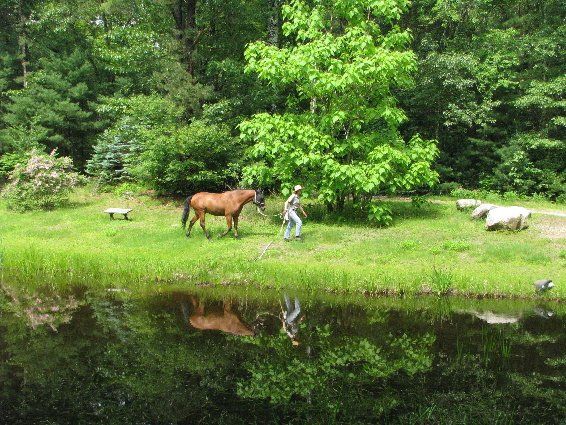 Photo Above: Lynn and Xafir out for a hand walk.
Photo Below: Lynn riding Xafir at Pinegate farm in a clinic with Rita Van Der Mulen from the Netherlands.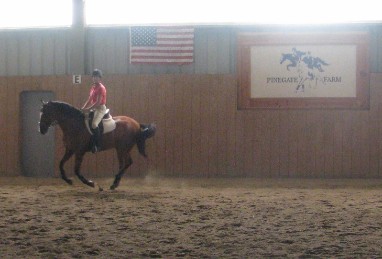 Lynn Smiley blends her experience and education to share and create a positive equestrian experience for both horse and rider. Academically she has two Bachelor's Degrees: one in Speech Communication (Human Communication) from URI and the other in Equine Business Management (Magna Cum Laude) from JWU. She also holds a Master's Degree in Business Administration. Lynn blends aspects of both the human and equine studies to enhance the rapport between the two.
A native Rhode Islander, Lynn's first riding lessons at six years of age were with Barbara Judd. From the age of ten, she cared for her own horses at her farm in East Greenwich. During this time frame she trained at Dapper Dan Farm with Diane Monks MacDonald and Bethany Monks Benson showing at the state and regional level everything from model, walk trot, pet pony, short stirrup, pleasure, trail, hunter hack, and everything in between through amateur jumpers. Lynn showed her pony Cinnamon, Morgan mare Spice of Life (Minnie), Jumper Ride the Lightning ( Dylan), and many others along the way as a backup points rider for the farm.
During JWU at Pinegate Farm, Lynn had the opportunity to ride with Lauren Clegg and Dione Casey. She also worked at the farm. Internships included Ann Kitchell's Internationally Recognized Huntington Farm in South Strafford, Vermont. There she did farm chores for Ann while also studying breed work and nutritional analysis. Huntington also provided the opportunity to ride with USDF Gold Medalist Deborah Dean-Smith; and, some part time grooming and exercise riding for Internationally known Trainer and Author Jane Savoie. While training with Deb, Lynn enjoyed the opportunity to show Figaro's Boy and attain some Second and Third Level Scores toward her USDF Bronze Medal.
After graduating from JWU Magna Cum Laude, Lynn again worked at Pinegate Farm for Lauren Clegg as a freelance instructor and ran a small sublet out of a private farm in East Greenwich. Next, she served as Farm Manager of Brittany Farm, Ltd. in Rehoboth, MA. Lynn had the opportunity to manage for, assist, and ride with USDF Judge and Trainer Bill Warren. Part of the work involved re-structuring and implementing a new overall schedule for maximum efficiency and enjoyment. It was geared toward preferred clientele and included managing horses, staff, client service, plant facilities, and preparing the farm for sale.
Another fun project Lynn was called upon for was to organize a large older farm into a new and improved public facility for public clientele and thirty horses. This entailed a co-organized effort for developing plant facilities, staff scheduling, lessons and training.
Next, she and her husband Dave Harvey decided to build a home and small farm in West Greenwich, RI. She acquired Hanoverian Mare Dresden out of Duker and enjoyed her as a personal horse with some USDF Region 8 First Level showing. Also during this time, Lynn was commissioned by the exclusive Carnegie Abbey Club to start their equestrian program from the ground up inclusive of action plan, budget, attaining horses, gear/equipment, jumps, consulting on construction of facilities, the ring/footing, layout of hack trails, vendor accounts, etc. She was instrumental in starting Riding as a Sport at the Portsmouth Abbey School. Two seasons later, it was time to focus on Brass Ring; and, she took her favorite mount Kaiwa (Leopard Appaloosa Gelding) home with her.
For the past fifteen years Lynn has enjoyed the opportunity to continue to train with USDF Gold Medalist and USDF L Judge Ann Guptill at Fox Ledge Farm in East Haddam, CT. This facilitated Lynn's earning of the USDF Bronze Medal and positive experiences showing Region 8 into 4th Level. In addition, she teaches for Lauren Clegg at Pinegate Farm in Swansea, MA. Lynn also serves as an adjunct instructor of riding for the Nationally Accredited Johnson and Wales University Equine Studies Program Chaired by Beth Beukema with Crystal Taylor as Head of Riding. She also enjoys mutual professional networking with Beth DiCicco of Wolf Ridge Farm who specializes in Correct Round Pen Training, Horsemanship, Equine Behavior, Staring youngsters to re-educating horses.
Lynn has adopted a Lusitano gelding who is the Ambassador Horse for Horse Play Equine Rescue and Sanctuary Presided by Deidre Sharpe who promotes "Evolutionary Horsemanship," in Saunderstown RI. Xafir is an intelligent and kindYear 10 Year Old bay gelding. He came to Lynn in Winter of 2009 and they earned his USDF First Level Performance Certificate with ten approved scores by the end of June 2009. Xafir will continue to help spread the message that all horses matter. This past season concentrated on his second level work resulting in taking first place in his first recognized second level class. Focus will continue on his ring skills development; but, it will also include some jumping, gymnastics, round pen work, groundwork, and hacking out to keep things well balanced.
Lynn has taken several courses with the former Balimo Program and enjoys integrating that into training when appropriate.
She also actively holds a RI Real Estate Broker's License.
Let Lynn share her knowledge and network with you and your horse for an enjoyable and successful equestrian experience.
Phot Below: There seems to be some good luck floating around at Brass Ring.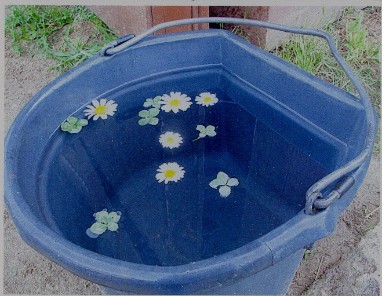 Photo Below: Carol Tavares enjoying a lesson with Lynn on WInkie at Pinegate Farm.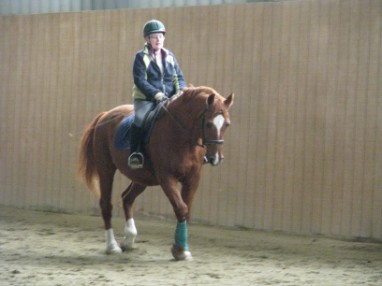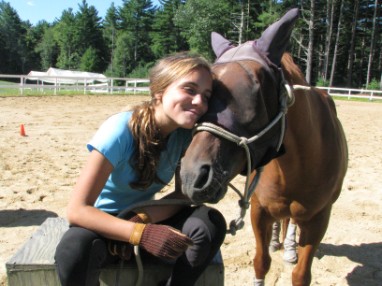 Photo Above: Amelia Schloesser and Brewster relaxing before his ground work.
Photo Below: Emily Beck riding Magique at Brass Ring. Magique is owned by the Johnson and Wales Equine Program and Brass Ring very much appreciates his summertime visits.